Mossy
by Jan Brett
Putnam Juvenile
September 2012

What a lovely, whimsical and weird picture book. Mossy is a very unusual turtle with a whole garden growing on her back. She's been taken to a museum where visitors love marveling at her - but she misses her friend, fellow turtle Scoot. All I could think of was that it would be terribly uncomfortable to have a garden growing on your back! Brett's typical colorful, detailed illustrations feature plenty of ornate borders. There's a nice message about respecting nature and all the creatures in it.

I borrowed this book from the library.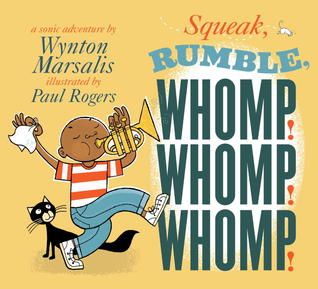 Squeak, Rumble, Whomp! Whomp! Whomp!: A Sonic Adventure
by Wynton Marsolis, illustrated by Paul Rogers
Candlewick Press
October 2012

"A sonic adventure" indeed! This picture book features jazzy onomatopoeia with a loving African-American family. Large, crisp digital illustrations look well from across a room which makes this very nice for storytime. Pair this with Froggy Gets Dressed for some "noisy" fun. Blue and white endpages show off all sorts of instruments.

I borrowed this book from the library.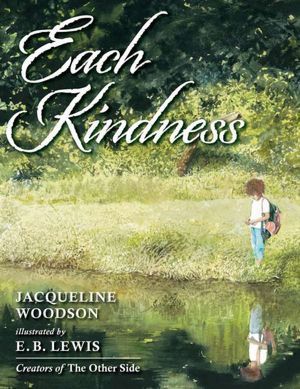 Each Kindness
by Jacqueline Woodson, illustrated by E.B. Lewis
Nancy Paulsen Books
October 2012

Wow. Wow. This book hits it on the nose, in terms of schoolyard politics, and the effects of unkindness, even when it doesn't escalate to flat-out bullying. This book gives a good look at poverty, too. Its The Hundred Dresses for our age and is sure to be a classic. When the classroom teacher talks about kindness going out like ripples from a stone thrown into water - that part choked me up. What a wonderful book.

I borrowed this book from the library.


The Town Mouse and the Country Mouse
by Helen Ward
Templar
September 2012

What an absolutely gorgeous book!!! Lyrical text, and lush watercolors are filled with details. Online pictures don't do justice to the eye-catching shiny gold cover. There's a hint of Christmas. The dangerous city cat is replaced by a moody pug in this version. I loved this book so much!

I borrowed this book from the library.