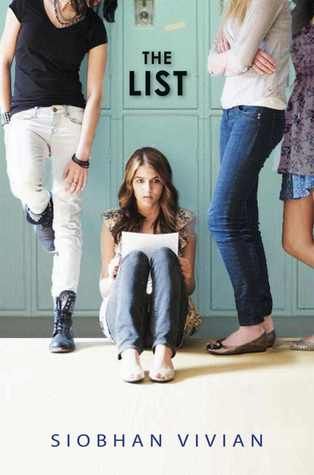 The List
by Siobhan Vivian
Push
April 2012

First line: "For as long as anyone can remember, the students of Mount Washington High have arrived at school on the last Monday in September to find a list naming the prettiest and the ugliest girl in each grade."

This is a pretty large ensemble cast - 8 girls, plus their friends and family. Each girl is so unique, with her own reactions to being forced into the spotlight.

Abby is delighted to be named prettiest freshman. Her older sister Fern, is a science nerd whose devotion to "The Blix Effect" fantasy novels knows no bounds. I loved these sisters so much. I loved how the girls speak two completely different languages - Abby is fluent in fashion and personal grooming but struggles with classwork. Fern is a serious student, and was formerly on "the list" as an ugly girl. My favorite quote from Abby was regarding the Blix Effect style hair that Fern wants help with. "Fern only ever wants Abby to give her two French braids, even though Abby can do a knot or an up-twist - hairstyles Abby feels are better, more sophisticated choices for her sixteen-year-old sister. But Abby never says no to Fern's requests, even though she finds it weird that Fern wants to dress in what is essentially a costume, because the braids do make Fern look better, or at least like she cares a little bit about how she looks."

Danielle, aka Dan, is a lady athlete. She's a powerful swimmer, and knows her way around a weight room, too. Her boyfriend Andrew is always worried about what other guys will think. The news that Danielle has been voted ugliest freshman is nearly enough to drive him away. As much as Danielle is embarrassed to be nicknamed "Dan the Man," in her own words, "She knows she is not a boy. But sometimes her boyfriend needs to be reminded." I felt like Dan was a teenage version of Glee's Coach Beiste.

Lauren is the unexpected pick for prettiest sophomore. Her family dynamic is cray-zee! She's been homeschooled her whole life, and while she's intimidated and overwhelmed to be attending high school, on the other hand, she is starting to enjoy herself and make friends. Her domineering mother needs to cut the cord!

Candace takes a lot of pride in her personal appearance and is shocked to make the ugly list. She's a queen bee, a mean girl, and her idea of having friends is so that when you say, "Jump!" they will all ask, "How high?" It would be satisfying to see her finally getting her comeuppance now, if she wasn't so heartrendingly pathetic. She really doesn't understand what she's done to drive people away.

I felt so bad for poor crazy Bridget. The other kids at school don't know that her new trimmed down look is only due to a summer spent battling anorexia. When she's named prettiest junior, it sends her into a tailspin. She decides to starve herself again, but the scenes where she sees her little sister who idolizes her start to copy her behavior broke my heart.

The scenes with Sarah, a punk-rock girl who is voted ugliest junior probably made the least sense to me. She's kind of unhinged after discovering a secret from her boyfriend Milo. She's embarrassed and regrets losing her virginity to him. I couldn't figure out what the secret was though! My mind wandered to the worst possible scenarios. I didn't feel like the secret was ever satisfactorily revealed. Was it just that he had an attractive ex-girlfriend? I didn't get it. The other part about Sarah's story that didn't totally make sense was her decision to stop bathing. She decides to punish the students at school by becoming as odoriferous as possible. The events of the book mostly happen over a four-day span though. I probably spend too much time with people who do not bathe, but I don't think only four days would be enough time for her to really work up the kind of horrific body stench that she describes.

Margo is delighted to be named prettiest senior, but horrified when her former best friend Jennifer is named the ugliest girl... for the fourth year in a row. Margo and her older sister, (also a former prettiest girl) who is now in college have a really interesting dynamic. Interestingly, Margo is mostly horrified that her carefully cultivated friend circle of popular girls take pity on Jennifer and start to include her. Which is not what Margo had envisioned at all.

And Jennifer! Where do I start? This girl is maybe the craziest of them all. She kind of seemed Single White Female - a little too stalker-y towards Margo.

I thought the mechanics of how the list is sealed with a stolen school stamp (to prevent impostor lists from cropping up) seemed a little overdone. But, I loved the way that Vivian skillfully interwove so many interconnecting threads. There is a great twist at the end. I kind of suspected it, maybe a little, but getting at all the details was fascinating.

Compare to:
The DUFF - Kody Keplinger
Boyproof - Cecil Castellucci
The Unbearable Book Club for Unsinkable Girls - Julie Schumacher
The Sisterhood of the Traveling Pants - Ann Brashares

I borrowed this book from the library.