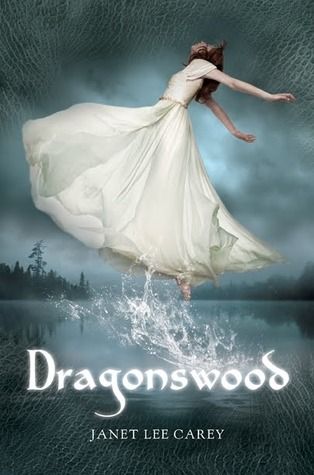 Dragonswood
First line: "I am seven years old. My father takes me to a witch burning."
This story has a strong sense of the medieval time period... if faeries and dragons co-existed in an uneasy truce with humans. Seventeen year old Tess lives in a small peasant cottage with her mother and abusive stepfather on the edge of a tiny village. She fights her compulsion to explore the nearby cursed Dragonswood on a daily basis, but gives in nearly every night, sneaking out to enjoy nature and spy on dragons. Tess lives in terror of being married off to a gross wealthy old man chosen by her father, or worse of being accused of witchcraft - she didn't ask to be gifted with fire-induced visions.
Following the death of her infant brother, and the arrival of an aggressive witchhunter, Lady Adela, who seems eager to fill a quota, Tess and her two best friends, Meg and Poppy, make a run for it. It takes Tess a long time to warm up to Garth Huntsman, a ranger they encounter in their travels. Of course, he turns out to be the same man from Tess's visions. As various elements from an ancient prophecy begin to come together, Tess finds herself negotiating between Onadon, the former fey king, Lord Kahlil, a very senior dragon and the (mostly) human royal family. A nice treat for fantasy fans, Carey skillfully weaves several mythologies seamlessly together into a rich and complicated world.
I borrowed this book from the library.