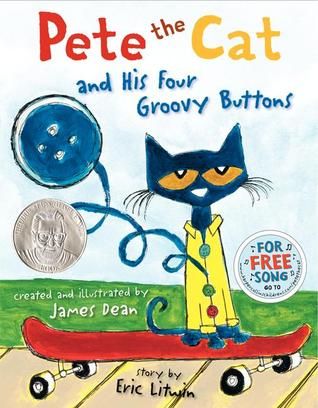 Pete the Cat and His Four Groovy Buttons
by Eric Litwin, illustrated by James Dean
HarperCollins
May 2012

Litwin and Dean can't go wrong! A funny, catchy book, easy to sing, popular at storytime, teaches subtraction, and a great message: don't cry over spilled milk (or missing buttons, as the case would have it.) Pete's trademark grooviness is evident as he waltzes past a beach and an ice cream truck, losing buttons all the way. When all the buttons are gone, there's one more surprise... Pete's still got his... bellybutton! Don't miss out on this wonderful crowd pleaser.

I borrowed this book from the library.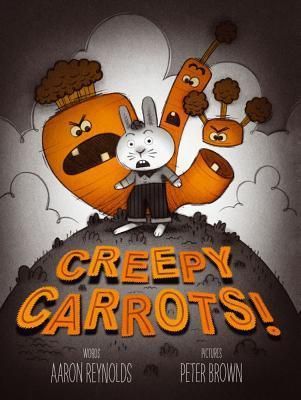 Creepy Carrots!
by Aaron Reynolds, illustrated by Peter Brown
Simon & Schuster Books for Young Readers
August 2012

What a sublime book. It's just a touch creepy, but the the hilariously inspired silliness of a carrot actually being terrifying prevents things from getting too serious. I loved lines such as "terrible carroty breathing" and the "soft.. sinister... tunktunktunk of carrots creeping." as the main character, a bunny, fears he's being stalked by ill-intenioned carrots. There's a limited palette of black, white and orange, which makes reading this book feel like watching an old horror movie. Plenty of carrots on the end pages, too. Creepy Carrots would be great for Halloween or anytime.

I borrowed this book from the library.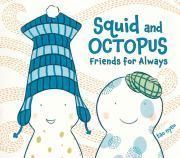 Squid and Octopus Friends for Always
by Tao Nyeu
Dial Books for Young Readers
June 2012

Squid and Octopus are wonderful and charming in this collection of short stories of two best friends with a gentle sense of humor. Each of the stories emphasizes how the two have got each other's back for encouragement and support. I like the limited palette of white, blue, green and yellow and the cute artistic style. Squid and Octopus are sure to join the ranks of other dynamic duos such as George and Martha, Frog and Toad, and Bink and Gollie.

I borrowed this book from the library.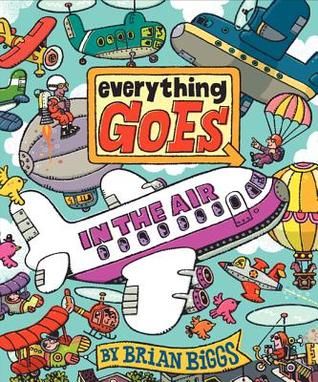 Everything Goes: In the Airport
by Brian Biggs
Balzer + Bray
September 2012

Busy detailed pages, some in graphic novel format feature plenty of sidebar info and speech bubbles. Think Richard Scarry's insane labeling crossed with the humorous hidden details of Martin Handford's Where's Waldo series with a decided transportation bent. This is sure to be endlessly pored over by young airplane fans.

I borrowed this book from the library.