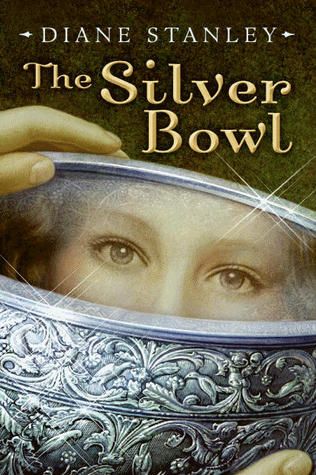 The Silver Bowl
by Diane Stanley
Harper Collins
April 2011
First line: "I was sent away to work when I was very young."
Molly has been working as a scullery maid at Dethemere Castle since the tender age of seven. With a sickly mother and harsh, uncaring dad, she grows up like a wild urchin on the streets. It isn't until she has a disturbing vision of the future and arouses their neighbors' suspicions that her father finally remembers to send her off packing.
The hustle and bustle of a medieval city, including dirt and disease almost make this book feel like historical fiction. It's just a few touches of magic which carry the story into fantasy. While at the castle, she befriends Tobias, aka "Donkey Boy."
Molly gradually settles into a comfortable routine at the castle, but when she's promoted to help polish the silver, she finds one particularly grand silver bowl seems to act as a focus for her visions. Alaric, the spoiled prince, is caught up in a dangerous plot to remove his family from the throne and Molly and Tobias find themselves on a grand adventure to protect him. Molly is practical and smart - despite her poverty, the early death of her mother and the long hours of hard work she endures at such a young age, she never really complains. While marketed as YA this book has more of a middle-grade feel.
Compare to:
The Princess Curse - Merrie Haskell
The Thirteenth Princess - Diane Zahler
The Princess Academy - Shannon Hale
Ronia, the Robber's Daughter - Astrid Lindgren
I borrowed this book from the library.