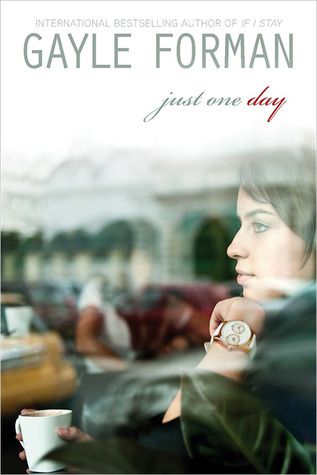 Just One Day
by Gayle Forman
Dutton Juvenile
January 2013
First line: "What if Shakespeare had it wrong?"
I just read this book for the Not-So-YA book club - an awesome group of ladies who are as obsessed with YA fiction as I am. I must admit, I was highly skeptical of this pick, because I had attempted to read Gayle Foreman's If I Stay, and I just couldn't get into it. Just One Day really surprised me - I loved it. It provided some great discussion for our book club.
Straightlaced high school senior Allyson Healey decides on a single act of rebellion during her tour of Europe. While her friend Melanie covers for her, she runs off to Paris for just one day with mysterious, good-lucking Shakespearean actor, Willem de Ruiter. He quickly dubs her "Lulu," and Allyson is only too happy to ditch her old persona in favor of trying on being edgy rule-breaker. About half the book recounts her amazing, turbulent, exciting and romantic day. Together, they take the train from London, meet up with Willem's (ex-girlfriend?) Celine, travel the canals, make new ex-pat friends, get lost, ride a bike to the Louvre, break into an artists studio and impulsively end up in bed together.
In the morning, Willem is gone, and over-protected Allyson is absolutely shattered. In a panic, she calls the tour group chaperone, who kindly arranges for Allyson to rejoin the group and head home. At home, Allyson starts her freshman year of college in a deep depression. Her overbearing mother demands that she major in pre-med. Soon Allyson finds herself overwhelmed, flunking classes, and unable to make new friends. This is a real coming of age story, as Allyson struggles to reinvent herself. When she switches gears her second semester and takes a Shakespeare class, she picks up a sassy gay best friend, D'Angelo Harrison, or Dee for short. I loved Dee and wished there was more of him in this book. Dee veers dangerously close to being a Magical Negro in this story - he uses his amazing code-switching abilities to support Allyson, effortlessly transforming himself from campy queer to New York hoodlum, to liberal arts intelligentsia as the situation needs it.
Allyson's mother is seriously crazytown. That woman needs to cut the cord, and find other means of fulfillment in her life! Her obsession with Allyson bordered on the disturbing. Allyson is an only child and the entire focus of her mother's attention. In a way, I shouldn't have been surprised by Allyson's obsession with Willem - since she's seen that kind of behavior modeled by her mother. Allyson decides to get a job as a dishwasher in a restaurant and learn French so that she can return to Paris and find Willem. When she goes back, I found the string of lucky coincidences that lead her back to Willem kind of stretched credulity. This was a blazing fast read. With a slightly tweaked ending this would have made a fine stand-alone book. As it is, we will all have to wonder how things resolve in the sequel, told from Willem's perspective, Just One Year.
Compare to:
Meant to Be - Lauren Morrill
A Long Way from You - Gwendolyn Heasley
Falling in Love with English Boys - Melissa Jensen
Anna and the French Kiss - Stephanie Perkins
I borrowed this book from the library.