I thought I'd talk about my Top 10 Book Club Books. I'm lucky to belong to the best book club ever: The Not So YA Book Club, for readers who are adults, but still enjoy reading YA. It's hosted at one of my favorite book stores, Little Shop of Stories.
All the books listed below were certainly conversation starters.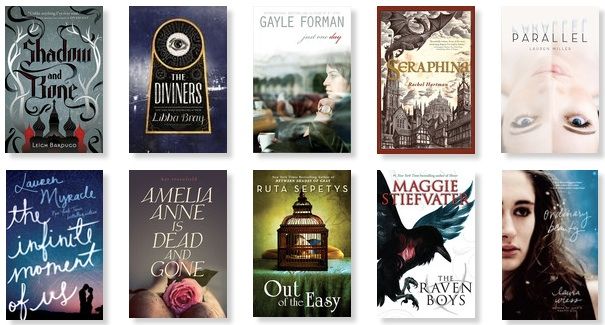 Shadow and Bone - Leigh Bardugo
Everyone in my book club swooned for this Russian-esque fantasy! Are you Team Darkling or Team Mal?
The Diviners - Libba Bray
I really thought that this would feel a little more similar to A Great and Terrible Beauty and the scary parts were just on the edge of too scary for me (I am a big scaredy cat) but everyone "positutely" loved this supernatural thriller.
Just One Day - Gayle Foreman
This contemporary gave us a lot to talk about! Lots of interesting characters and situations in this novel. Allyson spends one romantic day with Willem that changes her priorities in life. Also, her mother is crazy! Very good read.
Seraphina - Rachel Hartman
Here is a book that I love, love, loved. Socially awkward shape-changing dragons? I am so there! I don't think anyone else in book club enjoyed it the way I did though.
Parallel - Lauren Miller
Here is another of my favorite sort of book: Abby finds that her life has been split by some kind of time phenomenon and her present is changing wildly, based on new and different decisions of her past self. The author came to visit us and it was so great getting to ask her in person about the mechanics of how
The Infinite Moment of Us - Lauren Myracle
We were pretty split on this one. A lot of us didn't read it. This was so much like an updated, modern Forever by Judy Blume. I found the crazy friend a little hard to believe. But all the awkwardness of first love! All of the feelings! Those were great.
Amelia Anne is Dead and Gone - Kat Rosenfield
Another contemporary that had us split down the middle. I'm generally not a murder mystery fan. The relationships in this book are intense. The flashbacks made me think of a much less surreal version of Twin Peaks.
Out of the Easy - Ruta Sepetys
Here is a book that I never, ever would have picked up on my own, and I absolutely loved it! Crime family, New Orleans, historical fiction - I would love to see this made into a movie.
The Raven Boys - Maggie Stiefvater
I love Maggie Stiefvater, and even I was not prepared for how great this book was and how much we all loved it. I was totally surprised and shocked by several twists and turns in the book, but the other members of my book club say they saw it coming a mile away.
Ordinary Beauty - Laura Weiss
Ahhhh! One of our more controversial picks. It's just so unrelentingly dramatic and sad! The mother in this story is just so horrible. One misfortune piled on top of another for our poor heroine. To top off all the drama, the gal who picked this book for our club, didn't even read it! For shame! She should get 20 lashes with a wet noodle for sticking us with this crazy read.
Are you in a book club? What are you reading?