Top Ten Tuesdays is a meme hosted by The Broke and the Bookish. This week's topic is: Top Ten Reasons I Love Being a Blogger.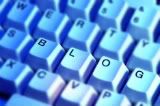 Here are (in no particular order) my top ten reasons:
Connecting with other bloggers at book festivals or library conferences - always fun!
Having my blog running for several years - it's so great to go back and read old posts. It's like an archive of what I was reading/thinking about at that time.
The feeling of accomplishment - It's definitely a labor of love, but it is very satisfying to finish up a blog post and hit "publish."
Reading other blogger's blogs, and adding to my ever growing Mt. TBR.
I love reading people's comments and keeping the conversation going.
Writing reviews helps me cement my thoughts about a particular book. It is so helpful when I'm doing reader's advisory.
Posting a monthly tally of books that I've read helps keep me on track with my reading goals.
As a bookseller, and then a librarian, I was no stranger to ARCs before I started my blog, but I do think being a blogger has opened some great opportunities for me to snag free books before they're published - it's like peeking into the future, when you get to read an Advance Reader's Copy and

just know

that this is going to be a hit that everyone is going to be talking about soon.
I love putting a variety of things on the blog: book reviews, book trailers, news from the library world, library program and craft ideas, whatever!
This blog is something that is completely mine. In this economy, I might lose my library job, or have to move across the country in order to stay employed, but as long as I keep paying my web-hosting fees, nobody can stop me from keeping my blog up to date.