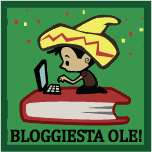 I got to a rarin' start this go around for Bloggiesta. While getting warmed up for it, I've been taking part in the Comments Challenge hosted by MotherReader and Lee Wind. Ah, how I wish every month was Comments Challenge... I've had so many interesting folks stop by my blog, and I've discovered and reconnected with so many great people!

I had
been planning to completely redesign my blog this weekend... but a night of insomnia a couple of weeks ago, meant that I got that done much sooner than I'd planned. I like it! It's still a template, but a customized one, and similar enough to the way things looked before that I'm very happy with it. I was able to do a few things like make the text portion wider (blogs with a verrrry skinny space for posts, surrounded by a million ads, buttons, gadgets and widgets on either side are a total pet peeve
of mine.)

Here's what
I got accomplished this weekend:
I finally got around to correcting a minor glitch - madiganreads.com now redirects to www.madiganreads.com, which simply means that readers won't get an error message anymore if they forget to type in the www. It wasn't that hard to do... once I spent a few hours figuring out how to get to the right "edit" screen. :\

I corrected some typos... quite a few of tiny things that had escaped my notice before. I hate typos, so stamping out a few of them was very satisfying indeed.

I cleaned up some labels. I had a number of "orphan labels" where I only had one entry that applied. I consolidated quite a lot of those. Goodbye, "librarians" label.

I added additional labels to a ton of posts that needed them.

Speaking of labels: I corrected something that has been bugging me for a while "newbery," "caldecott," and "printz" are now all capitalized. Hurrah!

I had my blog analyzed by

Website Grader

- something from

a past mini-challenge

. Really neat. Apparently my blog has too many images? Interesting - I always feel like I don't have enough.

Updated my blog roll. Removed a few blogs, added a few blogs. I like to mix it up.

As I mentioned earlier... I've been taking part in the Comments Challenge. I decided to step up my game and go for 10 comments a day, not just 5.

I'm still kind of stunned -- I can't believe I did it. I've got blog posts for the rest of January and most of February written and scheduled! Phew!

Best of all! I finally got my official review policy all polished up and posted! Check it out! I'm so happy with it.
I didn't keep track of how many hours I spend working my blog this weekend, but I can tell you this: "sleep" has consisted of 4-hour naps between midnight and 4:00 am, and I am thoroughly tuckered out!