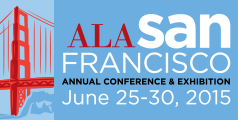 I didn't go to the American Library Association's Annual Conference in San Francisco this year, much as I might have liked to. I lived in San Francisco for a brief while (and worked in the TransAmerica Pyramid!) and have always enjoyed going back for visits. But, I've done the next best thing, and read up on other conference-goers experiences there.
Travis Jonker at 100 Scope Notes gives a three-part wrap-up. One, two and three.
The ALSC blog is a treasure trove of conference related posts.
Abby Johnson at Abby the Librarian shares her experiences, especially the Newbery Caldecott banquet.
Paul Signorelli at Building Creative Bridges talks about the warmly supportive and hug-worthy excitement being in San Francisco during Pride Week, as the historic Supreme Court decision on gay marriages was released and has more resources for those who are #alaleftbehind.