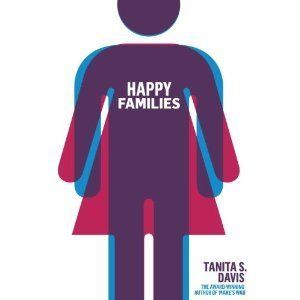 Happy Families
Knopf Books for Young Readers

First line: "The surge of chattering, pointing, gawking people pours into the massive auditorium, and I feel a shiver crawl up my arms."

Twin high school freshman Ysabel and Justin Nicholas are leading perfectly normal, happy lives until they discover their father is hiding a secret. Ysabel is a talented artist, hoping to eventually get an art school scholarship with her glass bead designs, while her younger brother Justin is a straight-A student with his eye on the Ivy League and law school. In short, they are both high-achieving, intelligent kids and their father's secret truly turns their lives upside down.

When their grandfather discovers that the twins' father has been renting an apartment several hours away, initially the family suspects that the possibility of an affair with another woman. Nothing could have prepared them for the truth... their father has been living as a woman and is in the process of transitioning to her new identity as Christine.

This is a short little book, that covers a weighty topic in a unique way. Alternating chapters between the twins take you through their turmoil, surprise and hurt that their father isn't who they thought he was. The family suffers from the secrecy and a total lack of communication. As their parents work issues out in therapy, the teens are left in the dark about how this change will affect their lives. It's not until the end of the book, that their father tells them that they are not necessarily divorcing, that the twins won't have to change schools and so on. The whole family eventually makes their peace with the complicated situation. The book is appended with a glossary and guide to speaking respectfully about people who are transitioning to another gender.
I borrowed this book from the library.