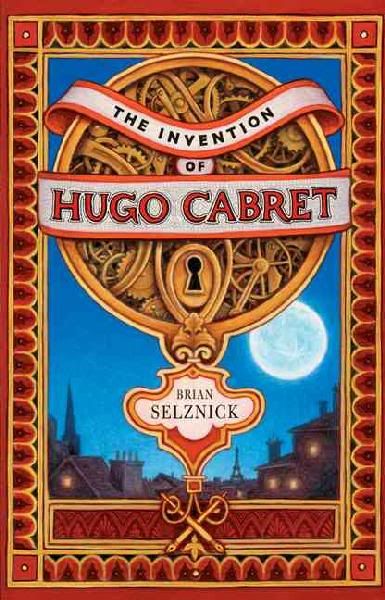 Last week, I went to the annual Frances Clarke Sayers lecture at UCLA.
This year's guest speaker was Brian Selznick of Caldecott-award-winning The Invention of Hugo Cabret fame.
It was, in short, amazing.
Completely and totally overwhelmingly great.
The afternoon started with awards given for "Letters About Literature."
Kids from 4th
to 12th
grade wrote letters to their favorite authors about a book that spoke to them personally.
I liked that a goodly portion of the audience for the Sayers Lecture was kids and their families, rather than just librarians and authors.
It gave the whole presentation a different feel than it's had in years past.
The most memorable contest winner was definitely Wonder Smith's entry on The Sneetches by Dr. Seuss.
It was a very moving speech, and with a name like Wonder Smith, I have to believe that kid is really going to go places in life.
Roger Kelly, of the Santa Monica Public Library (and formerly of Pasadena Public) gave a wonderful introduction to the featured speaker, Brian Selznick.
I don't know if I can do justice to describing Selzick's lecture, but I will say, it absolutely transported me.
Naturally, he discussed his career and things that have influenced him.
But, it was also the kind of talk where he went off on several tangents and then beautifully tied everything together at the end.
He had a slide show playing behind him that emphasized and reinforced a lot of his main talking points.
He talked about Maurice Sendak, and read aloud the whole book of Where the Wild Things Are.
He mentioned Remy Charlip and read Fortunately, Unfortunately.
He showed old family pictures, talked about attending art school at Rhode Island School of Design, and discussed how he researched several of his earlier books.
He played the entire film of A Trip to the Moon by Georges Melies and provided hilarious narration throughout.
Oh!
Best of all, he mentioned how he ended up actually meeting Remy Charlip and befriending him.
And then realizing that Remy bore a striking resemblance to Melies, ended up using him as a model in his own book.
I loved that he had a background working in an independent children's bookstore!
One thing he kept drawing back to was the idea that people "look" at things… but it takes an artist to truly "see" things.
He ended with a fabulous montage of images from his talk, which drew connections that were obvious when he pointed them out… hidden up until you took a deeper look.
Afterwards, Selznick took questions from the audience, and the one that caught my attention the most was when someone asked him what he thought of the upcoming live-action film adaptation of Where the Wild Things Are.
I loved his answer, and it really made me think!
He said that he was excited that Spike Jonze was directing it and truly making his own piece of art out of it.
He said that he liked that it wasn't CGI because it made the interaction between Max and the Wild Things so much more genuine.
I think his exact words were something like, "And when Max is scared, it's a real kid, really being scared, not an actor trying to react to a tennis ball hanging in front of a blue screen."
Which, I think, is a great point, but caused me to have a total flashback to when I went to see Maurice Sendak speak in Berkeley back in… 1995, it must have been.
The speech that Maurice Sendak gave was so extraordinary; it's still with me, nearly 15 years later.
Among other things, I remember Sendak reacting quite angrily, when people asked him what his thoughts were on the film, The City of Lost Children.
I believe the director had just done an interview saying that one of his inspirations for the film was Where the Wild Things Are.
Sendak told us that he deeply disliked the movie, because he felt that it exploited the child actors in it.
There were scenes where they seemed genuinely afraid, and he wasn't sure that it was their acting ability… or the director manipulating the kids into scary situations and then capturing it on film.
One of the things that Sendak mentioned was how his work has often caught the attention of censors, who felt that it was inappropriate for children.
(Especially the brief, non-sexual, nude scene from In The Night Kitchen, the emotional intensity of Outside, Over There and even the "wildness" celebrated in Where the Wild Things Are.)
He said what he loved about childhood was how intense everything seems to you as a child.
Without the benefit of a lifetime of experience to judge things by, nearly every experience you have is the
most
intense that you've experienced up until that point.
If you're hungry it's the hungriest you've ever been, the happiest, the most heartbreaking, etc.
And so, he wanted to write books that weren't treacly and sweet, that honored that kind of intensity respectfully.
The whole Sayers lecture felt like it took perhaps an hour at most, and so, what a shock to check our watches at the end of the talk and realize that nearly 3 hours had flown by!
What an absolutely uplifting experience.
Afterwards, some other LAPL librarians invited me to dinner with them, and that also was absolutely terrific. It was exactly as I imagined a Kids Lit Drink Night would go.
It was great to sit and chat and eat with other folks who were positively steeped in children's literature.
I wish we had more of that sort of thing going on in Los Angeles.
New York librarians, I am so jealous of you!
All in all, I'm really glad I took the time out of my Sunday to come to the talk.
It was intellectually and visually one of the best
experiences I've had in a long while.