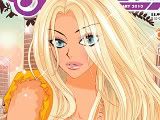 Cecily von Ziegesar's bestselling "Gossip Girl" novels are going to be
re-released in a manga format this year.
I think the storylines of this series will lend themselves really well to this format. The art for the first in the series,
Gossip Girls: For Your Eyes Only
looks great! I'm looking forward to it.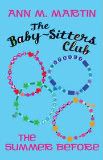 Also, very exciting, The Babysitter's Club by Ann Martin is
coming back into print
. Martin will be writing a prequel, called The Summer Before, due out in hardcover in April 2010, to be followed by the re-release of the rest of the series in paperback. I'm amazed to report that I still get requests for this series.

I'm surprised that girls still want to read them, especially with some of the dated covers (the first book,
Kristy's Big Idea
, originally came out in 1986.) I'm very curious to see how they'll be updating the covers, and if they'll be making any other changes to the books. Check out Stacey's side-ponytail in this picture. For serious.
Interestingly, the graphic novels based on the original series, published in 2006, only seemed to fan the fires for the original chapter books, at least, with my patrons.