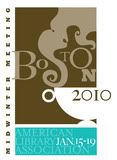 Just 3 more days until the 2010 Newbery and Caldecott winners are announced! Yeah, I'll be getting up at the wee hours of 4:45 am, PST to watch their
live video webcast
.
I can't wait to see who the winners are. Generally, whoever I think will win, or at least get an honor, comes up nothing. I've been very surprised the last few years by some dark horse candidates. Here's
my list of Newbery predictions
, made back in August. I'm crossing my fingers, that this will be the year my jinx will be broken.