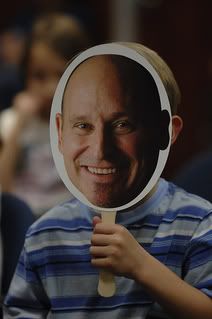 A
Year of Reading
is hosting a virtual party for Jon Scieszka, who will be ending his reign as the first Ambassador of Children's Literature.
"I also really wanted to see, speaking at the same time on the opposite side of the festival, Jon Scieszka of
Stinky Cheese Man
fame, so I wended my way over to the Target Children's Stage. Scieszka (say it, "SHESH-ka") was very entertaining. He read aloud a few things from
The Stinky Cheese Man
, as well as a short story or two from his autobiographical book
Knucklehead
. Mainly, his stories were about growing up among five brothers in Michigan and were pretty scatological, which all the kids in the audience seemed to enjoy."
Gosh, I'm surprised I didn't say more. He was a total hoot. We were all baking in the summer sun, and the children's stage at the book festival was particularly warm, but he wasn't fazed by this at all. He jumped about the stage with boundless energy, and had the audience repeating the correct pronunciation of his name over and over again, SHESH-ka, SHESH-ka, SHESH-ka! I remember the children's stage had an enormous oversized throne, which he sat at briefly, before popping up again, with another funny story to share. He talked a lot about his experience as a teacher and how that inspired him to write for kids. It was a great presentation, I highly enjoyed it. He's leaving some mighty big shoes to fill!