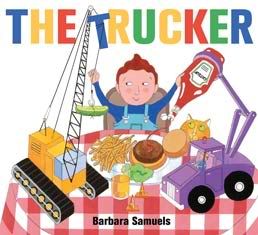 The Trucker
by Barbara Samuels
Farrar Straus Giroux
2010

This picture book has one thing that I just love: lots and lots of minute details hidden in the illustrations, making this ideal for one-on-one sharing with a little one. I liked the endpapers which repeat, "Beep beep! Honk Honk! Vroom!" and so on with other appropriately truck-like noises. Anyone who's ever had a transportation-obsessed youngster in their lives will be able to relate to this story. "Leo was a trucker. No doubt about it." His mom indulgently looks on as he crawls with his trucks as a baby. When Leo matures into a busy redheaded toddler, she tiredly sprawls on an easy chair, drinking tea, a book on a nearby endtable How to Raise a Sensitive Boy, surrounded by an elaborate play construction site that Leo is overseeing. She appears to have a penchant for colorful, busy patterned socks, which I had fun hunting for in the following pages.
The story really takes off when "Leo asked his Mama to read his favorite story over and over and over..." (and here the words trail away to the edge of the page.) They go for a walk, and as Mama enjoys the variety of people and activities they see in their urban neighborhood, Leo has eyes only for trucks. Thinking that she is asking him if he wants the toy firetruck that he's gazing at, Leo answers in the affirmative and ends up with a pet kitten instead. What initially seems like a disaster turns to everyone's advantage when it's discovered that Lola, the fat orange tabby, is quite a truck aficionado herself, making Lola and Leo inseparable buddies.
Large colorful illustrations, with effective use of white space, should make this book a favorite for transportation-themed storytimes. I'd recommend this for children aged 3 to 8.
I borrowed this book from my local library.