Gosh, it seems like ages since the last time I received any new books at the library. And let's be honest, a big part of the reason why I became a librarian was for collection development... at work, I can "collect" books on a grander scale than I ever could at home.
So, what's new?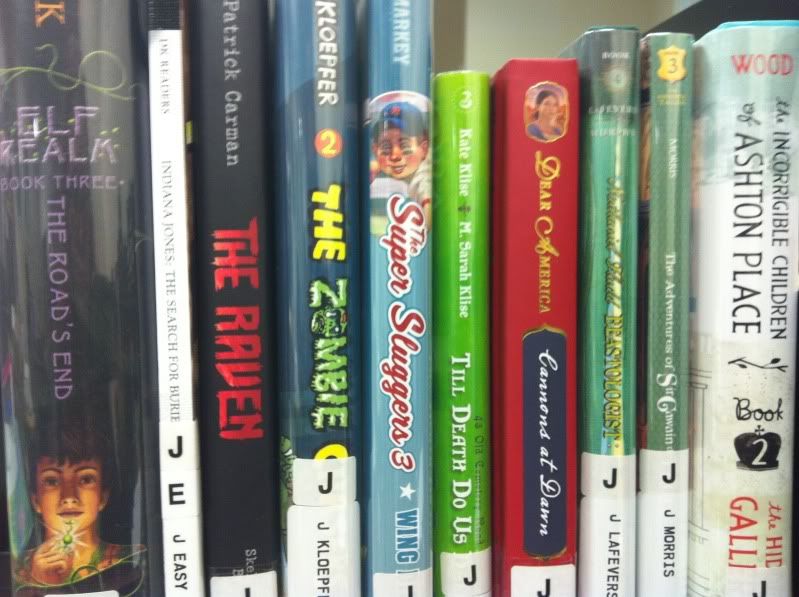 Elf Realm Book 3: The Road's End - Daniel Kirk
Indiana Jones: The Search for Buried Treasure - W. Rathbone
Skeleton Creek: The Raven: Ryan's Journal - Patrick Carman
The Zombie Chasers: Undead Ahead - John Kloepfer, illustrated by Steve Wolfhard
Super Sluggers 3: Wing Ding - Kevin Markey
43 Old Cemetery Road: Till Death Do Us Bark - Kate Klise, illustrated by M. Sarah Klise
Dear America: The Second Diary of Abigail Jane Stewart, Cannons at Dawn - Kristiana Gregory
Nathaniel Fludd Beastologist Book Four: The Unicorn's Tale - R.L. LaFevers, illustrated by Kelly Murphy
The Knights' Tales 3: The Adventures of Sir Gawain the True - Gerald Morris, illustrated by Aaron Renier
The Incorrigible Children of Ashton Place: The Hidden Gallery - Maryrose Wood
Series is the name of the game. Series, series, series. That's what kids clamor for, and so, that is what I shall give them. I'm beefing up the collection of "boys books" and things that seem to have universal appeal for boys and girls. I hate that books, from picture books, right up through YA seems to be so gendered, but that's the way of things, I suppose.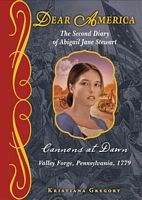 I am in LOVE with the new Dear America covers. They have just a hint of gold leaf -- so elegant! It makes them seem simultaneously more updated and more historical, if that's possible. This picture does not do the book justice.
I am so excited for the new Incorrigible Children book. I can't believe it doesn't have any holds on it. Lucky me, that means I can check it out for myself, right away.