Apparently fainting, swooning and lounging is a popular trend in YA book covers these days. Check it out!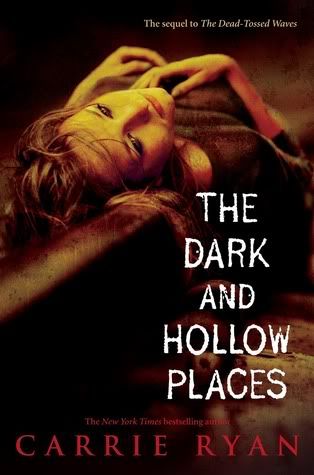 The Dark and Hollow Places
by Carrie Ryan
Delacorte Books for Young Readers
March 2011

There are many things that Annah would like to forget: the look on her sister's face when she and Elias left her behind in the Forest of Hands and Teeth, her first glimpse of the horde as they found their way to the Dark City, the sear of the barbed wire that would scar her for life. But most of all, Annah would like to forget the morning Elias left her for the Recruiters. Annah's world stopped that day and she's been waiting for him to come home ever since. Without him, her life doesn't feel much different from that of the dead that roam the wasted city around her. Then she meets Catcher and everything feels alive again.
Except, Catcher has his own secrets - dark, terrifying truths that link him to a past Annah's longed to forget, and to a future too deadly to consider. And now it's up to Annah - can she continue to live in a world drenched in the blood of the living? Or is death the only escape from the Return's destruction?
-from the publisher
Falling Under
by Gwen Hayes
New American Library
March 2011

Theia Alderson has always led a sheltered life in the small California town of Serendipity Falls. But when a devastatingly handsome boy appears in the halls of her school, Theia knows she's seen Haden before - not around town, but in her dreams.
As the Haden of both the night and the day beckons her closer one moment and pushes her away the next, the only thing Theia knows for sure is that the incredible pull she feels towards him is stronger than her fear. And when she discovers what Haden truly is, Theia's not sure if she wants to resist him, even if the cost is her soul.
-from the publisher
Abandon
by Meg Cabot
Point
April 2011

Though she tries returning to the life she knew before the accident, Pierce can't help but feel at once a part of this world, and apart from it. Yet she's never alone... because someone is always watching her. Escape from the realm of the dead is impossible when someone there wants you back. But now she's moved to a new town. Maybe at her new school, she can start fresh. Maybe she can stop feeling so afraid. Only she can't. Because even here, he finds her. That's how desperately he wants her back. She knows he's no guardian angel, and his dark world isn't exactly heaven, yet she can't stay away... especially since he always appears when she least expects it, but exactly when she needs him most. But if she lets herself fall any further, she may just find herself back in the one place she most fears: the Underworld
-from the publisher
The Day Before
by Lisa Schroeder
Simon Pulse
June 2011

Amber's life is spinning out of control. All she wants is to turn up the volume on her iPod until all of the demands of family and friends fade away. So she sneaks off to the beach to spend a day by herself.
Then Amber meets Cade. Their attraction is instant, and Amber can tell he's also looking for an escape. Together they decide to share a perfect day: no pasts, no fears, no regrets. The more time that Amber spends with Cade, the more she's drawn to him. And the more she's troubled by his darkness. Because Cade's not just living in the now - he's living each moment like it's his last.
-from the publisher
Haunting Violet
by Alyxandra Harvey
Walker Children's
June 2011

Violet Willoughby doesn't believe in ghosts. But they believe in her. After spending years participating in her mother's elaborate ruse as a fraudulent medium, Violet is about as skeptical as they come in all matters supernatural. Now that she is being visited by a very persistent ghost, one who suffered a violent death, Violet can no longer ignore her unique ability. She must figure out what this ghost is trying to communicate, and quickly because the killer is still on the loose. Afraid of ruining her chance to escape her mother's scheming through an advantageous marriage, Violet must keep her ability secret. The only person who can help her is Colin, a friend she's known since childhood, and whom she has grown to love. He understands the true Violet, but helping her on this path means they might never be together. Can Violet find a way to help this ghost without ruining her own chance at a future free of lies?
-from the publisher
Shattered Souls
by Mary Lindsey
Philomel/Penguin
December 2011

Lenzi hears voices and has visions - gravestones, floods, a boy with steel gray eyes. Her boyfriend, Zak, can't help, and everything keeps getting louder and more intense. Then Lenzi meets Alden, the boy from her dreams, who reveals that she's a reincarnated Speaker - someone who can talk to and help lost souls - and that he has been her Protector for centuries. Now Lenzi must choose between her life with Zak and the life she is destined to lead with Alden. But time is running out: a malevolent spirit is out to destroy Lenzi, and he will kill her if she doesn't make a decision soon.
-from the publisher
Any that I've missed? Let me know in the comments.