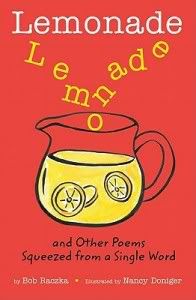 Lemonade and Other Poems Squeezed from a Single Word
by Bob Raczka, illustrated by Nancy Doniger
Roaring Brook Press
March 2011

What a fantastic and intriguing book! Raczka has accomplished something completely new to me, in these poems made up of letters from a single word. This may be as revolutionary and ground-breaking as Marilyn Singer's reverso poems, introduced in last year's poetry hit, Mirror, Mirror.

Raczka credits Andrew Russ for his introduction to this poetry form and explains how each letter appears beneath the letter of the original word. The overall effect is that of looking at a stuttering typewriter, or letters falling down like rain, forming words. There's a look to these poems almost like concrete poetry, with the careful typography proving that no additional letters have snuck in. It also means that each poem is a bit of a challenge - words and sentences aren't necessarily spaced in a traditional way. I think kids will love puzzling out what each poem says. Each poem is presented in its' original format, with a 2-color (red and black) line drawing on one page, followed by a page in red with white type, deciphering the poem in a more traditional way.

Here is one of my favorite poems in the book:

Moonlight

hot
night

thin
light

moth
in
motion

Simple, spare, effective and so true! I think this book would work well in classrooms, and I'd love to see the kind of one-word poems that this book will inspire. I highly recommend this amazing work.
I borrowed this book from the library.