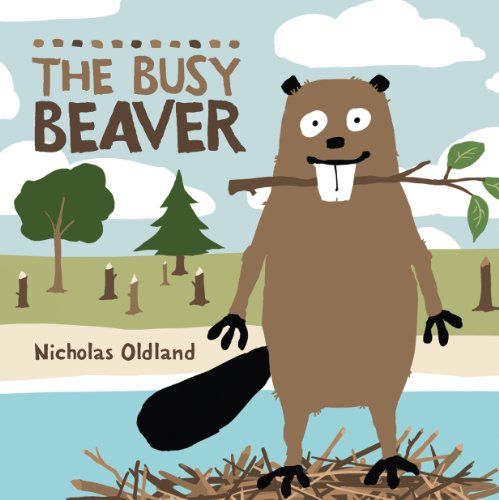 The Busy Beaver
by Nicholas Oldland
Kids Can Press
August 2011

A great message about being responsible for the environment and being a good friend is delivered in a humorous and completely non-didactic way in this charmer of a picture book. Beaver's been so busy chopping down trees and leaving projects half-finished, he hardly notices when he destroys a birds nest, accidentally gnaws on Moose's leg and even drops a tree on himself. Forced to do some introspection during his hospital stay, he realizes that he has to make amends. Embarking on a "serious rehabilitation program," Beaver studies up on dam-building, practices saying, "I'm sorry," in the mirror and does yoga and physical therapy until he's ready to return to the forest. The other animals are terrified at first, until they see that he has truly changed his ways.
Some of my favorite moments in the book are the aggrieved expressions on Moose's face when his leg is being chewed by thoughtless Beaver, the family of homeless birds tramping by with bindle sticks after their tree has been felled, and Beaver's overly-zealous plans now that he's turned over a new leaf which include taking a college course in dam-building, or starting a rockband. Exhausted by his good efforts, he decides to take a nap instead.

Digitally-created illustrations look a little like cut-paper collage and contain mostly crisp lines and brightly-hued blue, green and earth tones. From the same author of Big Bear Hug and Making the Moose Out of Life, The Busy Beaver is a welcome addition to Oldland's series about living well. Even though it felt slightly long, this book was a real hit for my older storytime group who enjoyed every bit of Beaver's wacky antics. I'll recommend this for kids aged 4-8.


I borrowed this book from the library.