It always seems like no matter how carefully I plan it, my library holds always come in at once.
Here's the stack of them, lots of great backlist titles: The Sweetheart of Prosper County, Old Magic, Intertwined, Oh My Gods, Jennifer Government and Fool's Girl.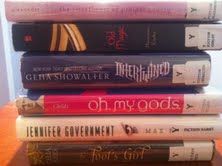 Plus, I got this book for review: The Not Quite Perfect Boyfriend by Lili Wilkinson.