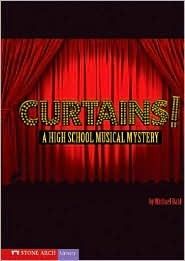 Curtains! A High School Musical Mystery
by Michael Dahl, illustrated by Tiffany Prothero
Stone Arch Books
2008

No relation to the Disney franchise, this short novel seems tailored for classroom use and includes a hearty supply of back matter. New kid Kyle must prove his innocence when several near-miss "accidents" endanger the performers in the school play. His friend Mindy finds inspiration for her detective skills in the works of Agatha Christie, the "Queen of Crime." The book is genuinely suspenseful, and readers will be surprised when the culprit's identity is revealed. Short chapters with short declarative sentences and full-page black-and-white illustrations done in blocky pen and ink make this book a quick read. An acceptable choice, particularly for reluctant readers. Fans of the tv show Glee might enjoy this dramatic, easy to read lo-hi read.


I received a free copy of this book from the publisher.