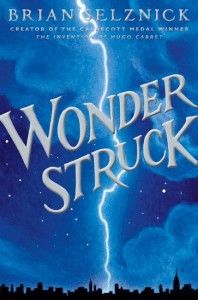 Wonderstruck
by Brian Selznick
Scholastic
September 2011

Selznick returns to the style that he pioneered in The Invention of Hugo Cabret in this sweeping tale that spans two generations, alternating between the late 1920's and 1970's. Rose's story, in 1927 is told through pictures. Ben's story, set in 1977 is told (mostly) in words. Selznick draws together several disparate elements here - things you wouldn't normally think about in one sitting: the beginnings of modern cinema, Deaf culture, spending overnight in the American Museum of Natural History, wolf conservation. It's a lot to shoehorn into one book and it feels like an interesting peek inside Selznick's brain to see how he carefully hinges all these things together.

This book will probably be compared (unfairly) with The Invention of Hugo Cabret, if only because there is absolutely nothing else quite like it. The appealing black and white sketches and easy flow of the text make this a lightning fast read, despite being a heavy doorstop of a book. A few of the coincidences in the book seemed a little too much to be believed, but the way everything works like clockwork makes for a very satisfying piece of fiction. Ultimately, everything is revealed to the reader as decades-long family secrets finally come out and Rose (now an old woman) and Ben are finally united.

This would make an interesting choice for a middle-school book club, with plenty of issues to discuss.


I borrowed this book from the library.