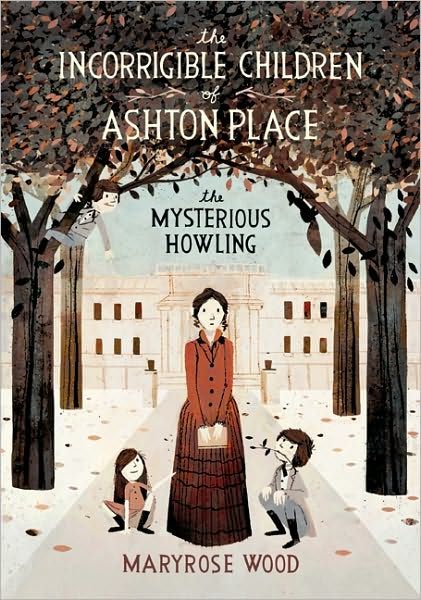 The Incorrigible Children of Ashton Place: The Mysterious Howling
by Maryrose Wood
Harper Collins
March 2010

This humorous take on orphans and their patient governess invites comparisons to Lemony Snicket, especially for its tongue-in-cheek style. 15 year-old Penelope Lumley, a graduate of the Swanburne Academy for Poor Bright Females, is pleased and surprised when she quickly and easily lands a job caring for three children raised by wolves, now the wards of Lord Frederick and Lady Constance Ashton. Lord Frederick hardly seems the fatherly type, neglecting even to name the children until pressed to do so. Barely more than a child herself, Penelope longs to prove herself a competent governess to "three clever pupils who both fear and adore me."

Maryrose Wood is an American author, but the feel of this book is decidedly British. Miss Lumley certainly owes a heavy debt to that other unflappable English nanny, Mary Poppins. My favorite scenes in the book are when Miss Lumley attempts to rally the children, Cassiopeia, Alexander and Beowulf, with proper lessons on Latin, History, and other fine subjects, and despite their unnerving animal-like behavior and obsession with chasing squirrels, she manages to carry on with determination and aplomb. The children have a habit of making wooo-ish howling noises which Miss Lumley comes to find rather endearing. The omniscient narrator presents the tale in equal measures of silliness and perfect propriety -- despite the cliffhanger ending, this is sure to be a welcome addition to any collection.

Compare to:
A Series of Unfortunate Events - Lemony Snicket
Mary Poppins - P.L. Travers
The Mysterious Benedict Society - Trenton Lee Stewart
Enola Holmes Mysteries - Nancy Springer
The Wolves of Willoughby Chase - Joan Aiken


I borrowed this book from the library.