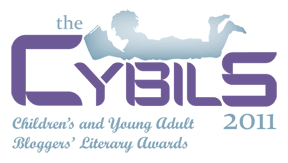 Right! So the Cybils winners have been announced for 2011!
Let's see how things look. I could be a completist, and cover every category, but instead, I'll only mention those of particular interest to me.

Book Apps: The Monster at the End of This Book
Look, I have to admit, I haven't really tried very many book apps - so I didn't have any "favorites" I was rooting for. But I loved this book - I can see it working very well in an interactive context. So, hurrah!

Fiction Picture Books: Me... Jane by Patrick McDonnell
I like this book. I don't have anything against it. But, I have to admit, I didn't expect to see it garner so many awards.

Easy Readers: I Broke My Trunk! by Mo Willems
Elephant and Piggy never fail. A sure bet for a win.

Early Chapter Books: Have Fun, Anna Hibiscus! by Atinuke
I am so excited for this! Amazing!!! I nominated this book, and it's so gratifying to see it make it all the way to the top! *swoon* I am on cloud 9 over this one.

Graphic Novels: Zita the Spacegirl by Ben Hatke
What a great book. I would have nominated it myself, if it hadn't been nominated already.

Middle Grade Fantasy and Science Fiction: The Chesire Cheese Cat: A Dickens of a Tale by Carmen Agra Deedy and Randall Wright
What a surprise. I didn't see this one coming, mainly because I hadn't realized that The Chesire Cheese Cat counts as a fantasy book. For me at least, anthropomorphism alone isn't enough to elevate a book to fantasy status. But it's nice to see a local author honored - this is Carmen Agra Deedy's first chapter book and I'm glad she won.

Young Adult Fantasy and Science Fiction: Blood Red Road by Moira Young
Hurrah! I haven't finished reading this one yet, but what I've read so far is fantastic.

Young Adult Fiction: Stupid Fast by Geoff Herbach
I haven't read this one yet, but I've heard great things about it. Now that's it's won a Cybil, I'll be sure to check it out.