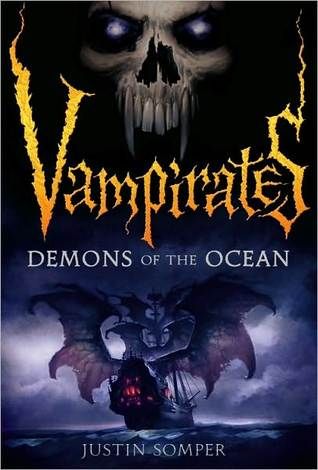 Demons of the Ocean
by Justin Somper
Little, Brown, Young Readers
January 2005
First Line:

This book is so ridiculously easy for me to book talk. Typically, I tell kids "
It's about pirates... who are also the undead! It's about vampires... who sail the high seas! It's about... VAMPIRATES!!!" Aaaaand, sold! Who can resist a pitch like that?

In this thrilling action adventure, twins Connor and Grace are devastated when their father dies and leaves them penniless. They quickly make their escape from an orphanage and sail away from the lighthouse island they grew up on. A sea storm later, Connor ends up on a pirate ship, while Grace ends up battling for her life on a vampire ship. Connor soon takes up sword-fighting lessons, which come in handy during several battles. Grace, on the other hand, must use her wits to puzzle out the mystery of what exactly is going on aboard the macabre vessel where she's being held captive. The story is told in alternating chapters, which I absolutely love. This is the first in the Vampirates series. If you like this one, follow it up with Tide of Terror, Blood Captain, Black Heart, Empire of Night and Immortal War.
Compare to these other series:
Crystal Doors - Kevin J. Anderson and Rebecca Moesta
The Akenhaten Adventure - P.B. Kerr
The Alchemyst - Scott Michael
The Emerald Atlas - John Stephens
I borrowed this book from the library.