A friend of mine recently challenged me to illustrate how my bookshelves are organized, using only MS Paint. While I don't have that particular program, I did mock something up using photobucket.

After losing a great deal of my book collection in a flood last year, I've made a concerted effort to thin out my books -- keeping only the ones that are most precious to me. If I'd done that in the first place, then I wouldn't have needed to put books in storage, where they flooded! And now, I've got everything narrowed down to one bookshelf! (Avert your eyes from the towering stacks near my bedstand, ahem.) I've got it organized thusly: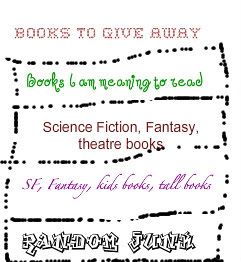 After working all day in a library, the last thing I want to do is organize books alphabetically by author, or anything like that. They are arranged pretty willy-nilly, and somewhat by size. The "books to be read shelf" is mostly YA ARCs and a few picturebooks.

How about you? I'd love to see how others are keeping their bookshelves organized. Want to play along? Post a picture on your blog, drawn in MS Paint, GIMP or something similar (the simpler the better) of your layout. Leave a comment and I'll link to your post!