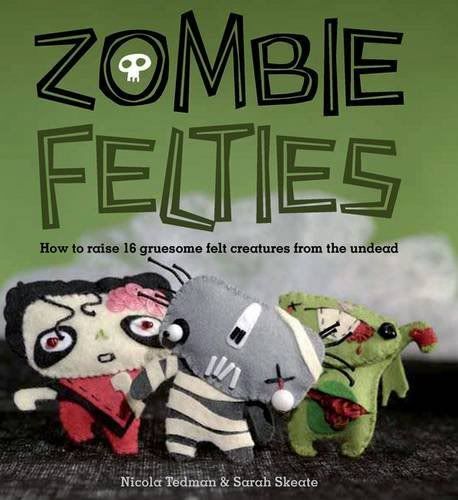 Zombie Felties: How to Raise 16 Gruesome Felt Creatures from the Undead
2010

Just in time for Halloween, Tedman and Skeate bring us this collection of creative crafts. Never in the history of ever have zombies looked quite so gosh-darn cute! Page after page of this attractive volume feature full-color photographs of mini-zombie felt creations, including a zombie bride, zombie vampire duck, a zombie pirate and many more.

Readers will find the clearly-labeled instructions and a preface including hints and tips on basic stitches extremely helpful for getting started. Each project is rated by difficulty level: one skull for the easiest projects, and up to four skulls for challenging zombies. Japanese-inspired design with tiny bodies and wobbly oblong heads gives each feltie a very kawaii look despite the pink beads representing brains spilling out, or the red embroidery floss for oozing guts... leaving one unsure if you'd rather run screaming or snuggle these little guys.

Tiny, simple to make, and easy to completely hand-sew, making the zombie dolls from this book will be much easier if you are already a crafter with lots of scraps and notions to choose from. Still, I see no reason why an enterprising YA librarian couldn't acquire a few sheets of felt, some embroidery floss and an assortment of beads and turn the book into inspiration for a Halloween craft library program. Teens with a twisted sense of humor will love these undead felt dolls.


I borrowed this book from the library.
I'm happy to be hosting Nonfiction Monday today. Leave a comment, and I'll add you to the Round-Up! I'll be checking in and updating through-out the day.
Thanks again, to Anastasia Suen for organizing Nonfiction Monday. Be sure and check out her line-up for the next few months... there may still be a few upcoming hosting spots available. And don't forget to check out Nonfiction Monday next week, hosted at Picture Book of the Day.
Comments seem to have gone all kerfluey. If you want to be included in the list, and haven't been able to leave a comment, drop me a line at madiganreads (at) gmail.com.
And here's the line-up! (So far.)