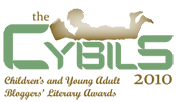 Cybils nominations are now officially open from now until October 15.
Folks are welcome to submit one book in each category. Each book can only be nominated once. If someone has already selected the book you were thinking of, you'll need to choose an alternate title. It can be any book in the appropriate category published between October 16, 2009 and October 15, 2010.
The nominations have been open for less than 24 hours, but there have already been over 300 books nominated across all the categories. I didn't stay up 'til midnight to get my nominations in early... instead, I'll be biding my time, now that many of the popular and obvious choices have been made, wracking my brain for any obscure, but still completely deserving titles.
Go to the
Cybils website
and check out their nomination form. It's easy to do!
Here are the categories:
Early Chapter Books
Easy Readers
Fantasy and Science Fiction - Middle Grade and Elementary
Fantasy and Science Fiction - YA
Fiction Picture Books
Graphic Novels -
Middle Grade and Elementary
Graphic Novels - YA
Middle Grade Fiction
Non-Fiction Picture Books
Non-Fiction Middle Grade and Young Adult
Poetry
Young Adult Fiction