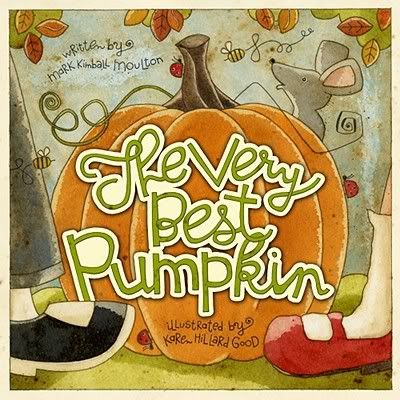 The Very Best Pumpkin
2010

This is a sweet, simple tale of a boy named Peter who spends the year carefully tending a runt of a pumpkin, until, by fall, his efforts are rewarded with a beautiful specimen of pumpkin. He generously gives the pumpkin as a gift to the shy girl next door, Meg, an act which seals their friendship. I enjoyed the illustration of her, hiding behind a book, The Secret Garden by Frances Hodgson Burnett.

The ink and watercolor art is aged with coffee stains, and the deliberate curlicues throughout lend a country-kitchen feel to this feel-good fall story. The art reminded me very strongly of Mary Englebreit with just a touch of Tomie DePaola. Full-color spreads are occasionally punctuated with illustrated borders featuring ladybugs, roses, bees and oak leaves.

There is an addendum in the back, with advice for growing your own pumpkin. Families who are looking for a seasonally appropriate, yet totally not-at-all-scary story for Halloween will be very pleased with this offering.


I borrowed this book from the library.