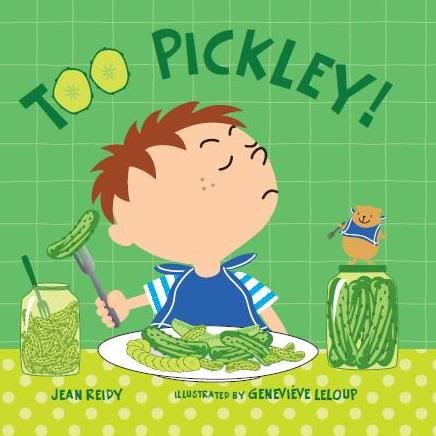 Too Pickley!
2010

I must confess, between the title of the book, and the bold green cover, I was expecting a story that focused solely on pickles, so I was a little surprised to see all kinds of foods roundly rejected by the young boy and his pet hamster, both picky eaters to the extreme. Intermittent rhyme struggled in a few places, and the actual text was somewhat spare. The clean, vibrant illustrations are the star of this story. Each page features a different monochromatic jewel-toned background with tone-on-tone food images. The boy's facial expressions cycle through disgust, disappointment, frustration and amazement. The end-paper images feature table settings on a blue picnic tablecloth background.

After declaring raisins too wrinkly, tomatoes too squishy, and fish... well, too fishy, the duo continues to sample their way through a feast they find lacking. What kid rejects pizza for being too cheesy, I ask you? After sensibly turning his nose up at a strange eyeball and octopus-laden stew, the book ends rather abruptly when the hero of the story inexplicably declares, "So yummy! All done." I might add this into the mix at a food-themed storytime, paired with a proven crowd-pleaser such as Mouse Mess by Linnea Riley.
I borrowed this book from the library.