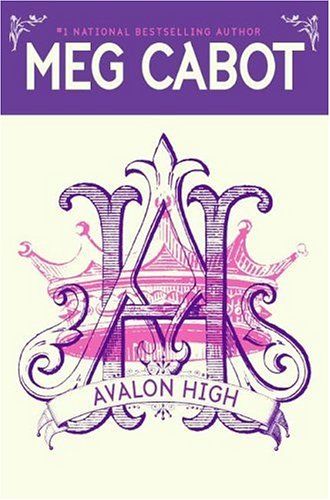 Avalon High
Meg Cabot
HarperCollins
December 2005

Avalon High is a light and breezy re-telling of the King Arthur legend, set in a modern day high school. Ellie Harrison is annoyed when her professor parents uproot her for a sabbatical to Washington, D.C., where she'll spend her junior year at a new school. Her only consolation is that the house they're renting has a pool. Gradually, she starts to wonder if her new classmates are all reincarnated from the court of Camelot.

Ellie, of course, is The Lady of the Lake, something which took me a while to figure out, despite the super-obvious hints, particularly her obsession with keeping the family's backyard pool pristine. She develops a crush on Will, who is dating Jennifer. Jennifer, in turn, secretly has a crush on Lance, Will's best friend. Will is coping with a lot of family drama involving his step-brother Marco. For those of you keeping score, Will = Arthur, Jennifer = Guinevere, Lance = Lance, Marco = Mordred. Other than the names and relationships between the characters, this doesn't feel medieval or fantasy-inspired at all. In tone and feel, Avalon High is very much a contemporary YA. It's a fun, fast read. I might compare it to Jenna and Jonah's Fauxmance for the way that it sneaks classic literature themes into a modern setting. The book has a spin-off manga series put out by Tokyo Pop, as well as a made-for-TV movie for the Disney Channel. This is the perfect book to recommend in those situations where you have to talk out of both sides of your mouth, trying to simultaneously please a teen reader who just wants some brain candy and a parent or adult who is pushing for something "more serious."

I borrowed this book from the library.