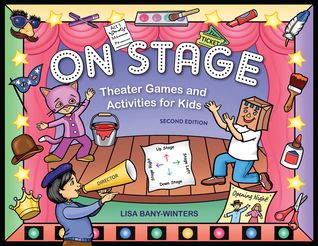 O
n Stage: Theatre Games and Activities for Kids
This updated edition of the drama club classic offers a good blend of practical and fun information and includes 30 new games and scripts. The encouraging tone is perfect for novice thespians. Theater vocabulary and other basics are thoroughly covered.
Popular improv games such as "Yes And...," "Mirrors," and "Party Quirks" make up the bulk of the book. Attractive sidebars in the shape of movie slates feature informational text. "Play It Again, Sam" sidebars feature multiple variations for further inspiration. Black-and-white cartoon illustrations show cheerful children participating in the exercises. The final two chapters give a cursory treatment to puppetry, mask-making, and backstage skills. This book is a boon for educators, theater directors, camp counselors, and students looking for theater warm-ups, circle games, improv prompts, short scripted skits, and other activities.
I received a free copy of this book from the publisher.