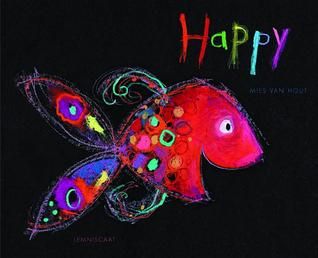 Happy
by Mies van Hout
Lemniscaat USA
April 2012

Nervous, shy, glad, shocked or astonished, all of these fish are equally arresting. Bright charcoal sketches on black backgrounds make each of the fish a real stand-out. Each page features a beautifully colored fish with just one word of emotion on the opposite side. A unique and distinctive book sure to open up great discussions about feelings.

I borrowed this book from the library.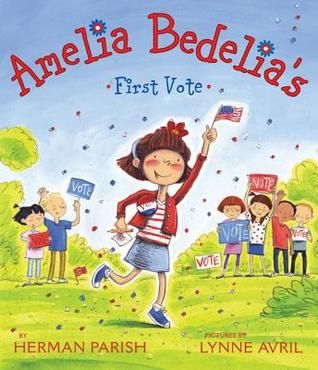 Amelia Bedelia's First Vote
by Herman Parish, illustrated by Lynn Avril
Greenwillow Books
April 2012

The joke of the original Amelia Bedelia books - that a grown woman could be so literal-minded - loses a bit of it's punch in these picture books featuring a grade-school Amelia. Here's my favorite "knee-slapper" from the book - after running in the hall, Amelia ends up falling and going to the nurse's office. She asks the principal if she's in trouble and he replies, "What would you do if you were me?" Amelia replies, "If I were you, I would wear happier ties." More hilarity ensues as the kids vote on whether or not to have "homework-free-Wednesdays." Sure to be a popular title with an election year coming up.

I borrowed this book from the library.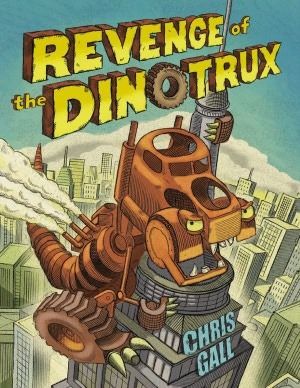 Revenge of the Dinotrux
by Chris Gall
Little Brown Books for Young Readers
May 2012

In this highly anticipated sequel to Dinotrux, the dinotrux grow weary of all the screaming, banging and swinging they have to endure at the museum. They bust loose and create mayhem all over town. Look for funny little details such as the newspaper headline, "What Do They Want?" When the mayor demands the dinotrux go to school, it would appear they're just as wild as ever... until they learn to read (truck books, natch.) Soon they're roaring off again - this time to build a playground, perfect for "screaming, banging and swinging." Large full-color spreads on every page are full of action. According to the illustrator they were "created with the help of 30W synthetic motor oil, 4-bolt mains, and a competition clutch."

I borrowed this book from the library.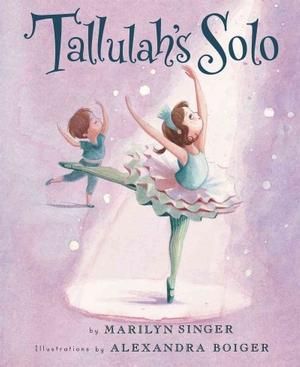 Tallulah's Solo
by Marilyn Singer, illustrated by Alexandra Boiger
Clarion Books
May 2012

Tallulah is outraged when she doesn't get a starring role in the ballet recital. In the meantime, her younger brother Beckett is awarded the part of the frog prince. "'The frog! That's not fair!' Tallulah cried. 'He got a big part even though he goofs off. I got a little part, and I work so hard!'"
The endpages feature Tallulah and Beckett trying out different ballet positions, pliés and relevés. Soft watercolor and watercolor and gouache illustrations with plenty of white space give a gentle feel to an emotionally difficult topic: sibling jealousy. Eventually Tallulah realizes how much Beckett looks up to her: he started ballet because he wants to be more like her and they make up. What a sweet book.

I borrowed this book from the library.