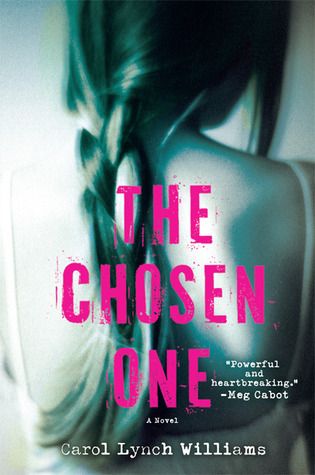 The Chosen One
May 2009
First line: "If I was going to kill the Prophet," I say, not even keeping my voice low, "I'd do it in Africa."
In a story ripped right from news headlines, this novel details Kyra's harrowing escape from an orthodox Mormon polygamous cult.
Growing up home-schooled in a rural, isolated religious compound, 13 year-old Kyra doesn't share the complete faith and unwavering fundamental Mormon principles of her father, three mothers and 20 brothers and sisters.
Her slight crush on a boy about her age as well as her growing uneasiness with the Prophet's tightening grip on their families forces her to keep secrets.
One of Kyra's few forbidden pleasures finally provides the key to her escape.
Unbeknownst to her family, she's been sneaking out to meet the local library bookmobile and devouring verboten treasures such as Bridge to Terabithia, The Borrowers, Harry Potter and Doctor Seuss.
When the Prophet declares that she is to be placed in marriage as the seventh wife to her own 60-year-old uncle, Kyra spends the following weeks in a heightened state of panic.
Her parents' appeals to the Prophet fail to sway his decision.
After Kyra receives a thorough beating, along with threats to her family, she feels she has no choice but to acquiesce to the marriage.
Initially intending just to say goodbye to Patrick the book truck driver, she ends up accepting his offer of a passage to safety.
Unfortunately, the librarian is killed by the cult after a high-speed car chase.
This does allow Kyra access to the book mobile however, leading to a very suspenseful escape where she has to manage to drive the vehicle herself. Featuring the
high-stakes drama of a nightmarish trap that Kyra must manage to wriggle free of, this might be easy to recommend to dystopian fans.
Compare to:
Matched - Allie Condie
Shabanu: Daughter of the Wind - Suzanne Fisher Staples
Catherine Called Birdy - Karen Cushman
Thunder Over Kandahar - Sharon McKay
I received a free copy of this book from the publisher.