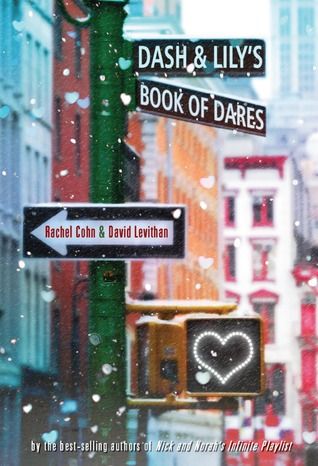 Dash and Lily's Book of Dares
by Rachel Cohn and David Levithan
Knopf Books for Young Readers
October 2010

First line: "Imagine this: You're in your favorite bookstore scanning the shelves."

In alternating chapters, readers hear the story of two misfit, bookish teens who make a connection in Manhattan over Christmas-time. Ignore the fact that this would never, ever happen. It's just too unlikely, and there are too many weird coincidences and clever riddles solved in the nick of time for this to ever really come to pass. Once you suspend your disbelief, though, the book reads like some fun Alternate Reality Game or geo-caching adventure, where the protagonists leave obscure literary clues for each other around the city in a game of cat and mouse. There's something unbearably romantic, but also lonely about the way they connect with each other.

Dash didn't feel like the stereotypical red-blooded American male. He felt like a nebbish Woody Allen character. Towards the end of the book, he ends up locked in the basement of The Strand bookstore with Lily... and his first thoughts are about how exciting it is to be alone with the object of his affections: The complete multi-volume edition of the Oxford English Dictionary. There was a playful, intellectual connection between Dash and Lily, and a sense of madcap, Manhattan adventure. But there wasn't any real passion or spark between the two. If I had to guess, I'd assume that even if he doesn't know it yet, once Dash heads off to college, he'll probably come out of the closet, and find himself a nice boyfriend.

This wasn't quite as thrilling as Nick and Norah's Infinite Playlist for me, but it was still an enjoyable read.

Compare to:

Jenna & Jonah's Fauxmance - Emily Franklin & Brendan Halpin
Amy & Roger's Epic Detour - Morgan Matson
Pretty Bad Things - C.J. Skuse


I borrowed this book from the library.