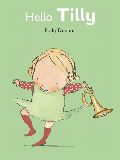 Hello Tilly (series)
by Polly Dunbar
Candlewick Press
2008
In Hello Tilly, well-meaning friends interrupt Hector the pig's quiet moment with Tilly, a pink-cheeked little girl. After a short sulk and some attempts to cheer him up, he is appeased by a painting she does of him and equilibrium is restored.

In Happy Hector, Tilly's reading is interrupted when Tiptoe the bunny asks her to play with him, and she joins her animal companions to "Rooty-toot-toot!" and "Boom! Boom! Boom!" with musical instruments. Doodle the alligator can be seen chewing on anything in sight: cookies, Tilly's book, even the plate. Pru the hen insists that everyone follow her in a pretty-prance parade that leads to a ride on Tumpty the elephant's back until, "Oh dear-too much fun!" Tilly declares that it's time for a story, pulls out her book (mercifully unscathed from Doodle's earlier snack attack), and begins to read about the six best friends who live in a little yellow house.

Both of these books feature lovely, soothing drawings in gentle pastel colors with just a touch of humor and are perfectly suited to toddlers. Varying typefaces communicate changes in volume and move the action along. Fans of Helen Oxenbury's Tom and Pippo series will love these titles.
I received a free copy of these books from the publisher.