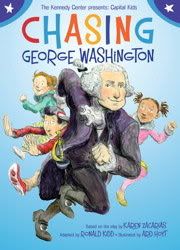 Chasing George Washington
adapted by Ronald Kidd, illustrated by Ard Hoyt
Simon & Schuster
2009

This story was adapted from a play developed by the Kennedy Center. Three children on a tour of the White House awaken a portrait of George Washington, and make their way through its rooms. The founding father's role in selecting the original design is touched upon, as are the modifications that have taken place over the years. Hopscotching through history, the kids visit Susan Ford's prom; Dolley Madison, who saves George's portrait; as well as Jackie Kennedy and President Martin Van Buren as they debate a White House restoration. Mr. Flower, a secret service agent, functions as the "baddie," chasing the "Children of Today" from room to room. Readers who have exhausted Mary Pope Osborne's "Magic Tree House" books (Random) might be persuaded to give this story a try, but it's strictly an additional purchase.


I recently reviewed this book for School Library Journal. You can get the complete list of April reviews on their website.
I received a free copy of this book from the publisher.