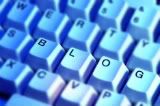 When I'm not reading other kidlit or book blogs, here are a few that keep me entertained.
It's Lovely I'll Take It
Housing snark includes real estate listings that are just plain wrong.
Cute Overload
When you need to be overwhelmed with complete and utter cuteness.
Cake Wrecks
I love their Sunday Sweets posts! Prepare to be horrified by poor grammar and/or spelling, as well as cakes that are just plain creepy, during the rest of the week, though.
Old Painted Cottage
Incredible before and after photos on this home decorating blog. It features gorgeous photographs that wouldn't look out of place in any professional home decor magazine.
Television Without Pity
Not a blog, per se, but a massive snarky review site for nearly every popular current television show.
Boing Boing
Tech news and random internet findings.
Consumerist
Stay on top of the latest news regarding fair business practices and consumer affairs.