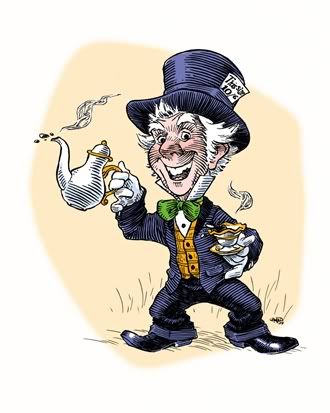 I spent this morning volunteering at the second annual Woodruff Arts Center Young Audiences Mad Hatter Event. Wow! I have to say, if I was a kid, this whole event would have blown my mind. Over-the-top doesn't even begin to describe how awesome it was. There was an antique car show in the parking lot, along with a live band and a face painting station. Inside, storytellers, illustrators, dancers, a DJ, costumed characters from Alice in Wonderland, including Alice, The Mad Hatter, The White Rabbit, The Red Queen, TweedleDum and TweedleDee. Lots of craft stations: a noisemaker station, a hilarious hat boutique, a puppet-making station, a mural that everyone was working on, and the candy teacup table where I was stationed.

All told, there were at least 400 people in attendance. Here's a view from one of the upper balconies.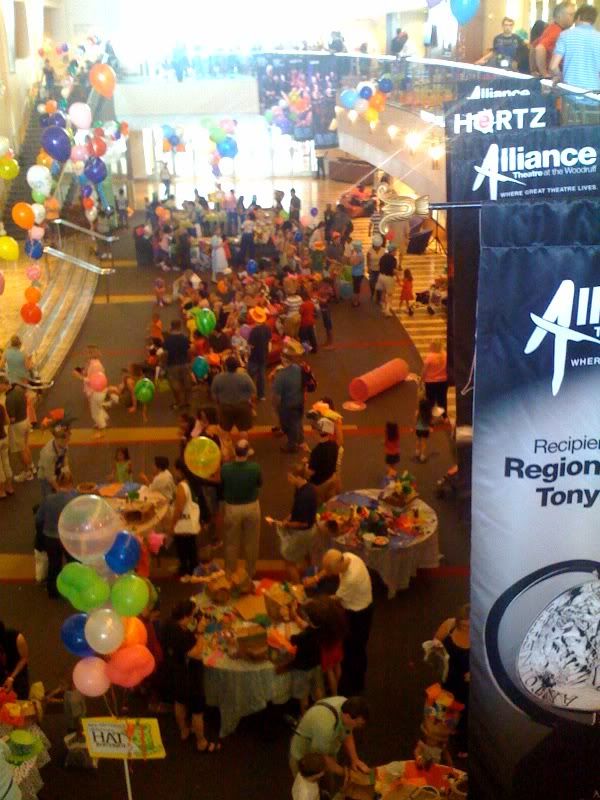 Everything was very cleverly tied in to the Mad Hatter theme. Here's a sign near one of the tubs of free drinks.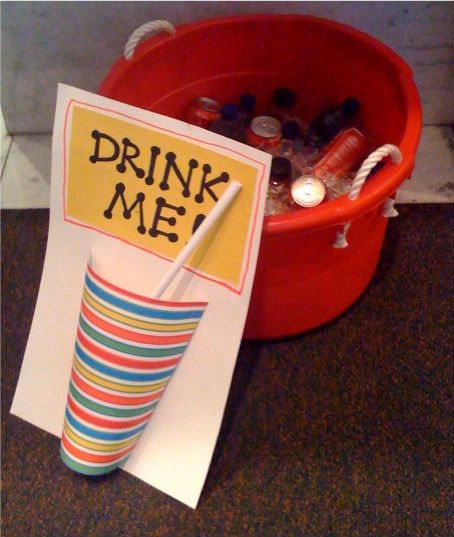 I was so impressed with the hat-making craft. Basically, you take a simple brown grocery bag. Kind of crunch the bottom of the bag (roll it, if you can) and voilà, you've got an impromptu top hat ready to be decorated.
These hats definitely had what I like to call, "The Mickey Mouse Ears Effect." They look pretty silly. But, when you see absolutely everyone wearing one, you kind of can't resist. You start thinking, "Hey, where can I get one of those?" I never thought I'd be proudly walking around with a paper bag on my head, but some random kid kindly made this one for me. Stunning, huh?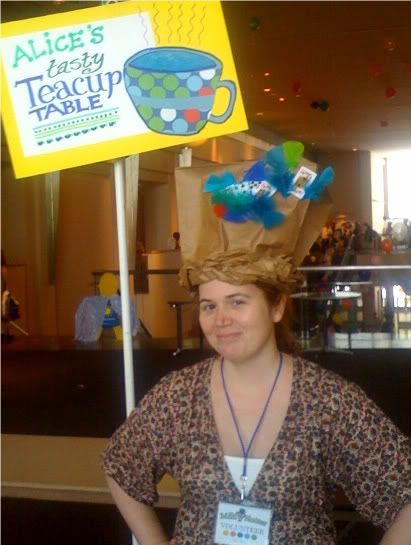 I liked this food craft, too. Beautiful and edible. The "saucer" is a chocolate chip cookie, the cup is an ice cream cone (with the waffle-portion of the bottom cut off). The handle is a gummy candy cut in half. The "tea" is a spoonful of jellybeans, and we topped these off with a "sugar cube" or two of Starburst candies. The main problem with them was the parents who wanted to snap a picture of their kids' creations before they got eaten!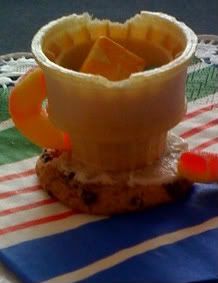 The whole morning flew by -- with so much to see and do, everything seemed to happen in a flash. I think the best part was seeing so many kids and families having fun. Thanks, Young Audiences, for hosting this event, it was a blast!