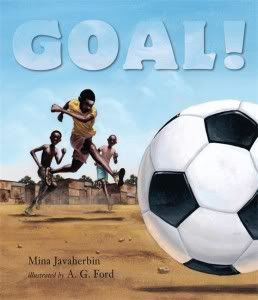 Goal!
Candlewick Press
2010

A friendly game of football (or soccer, as we'd call it here in the U.S.) provides a rare bright spot for some boys growing up in a shanty township in South Africa. The repeated phrase, "Left is clear / Right is clear" underscores the wariness with which they must conduct themselves because, "the streets are not safe." Ajani has won a new regulation leather ball, and his friends Jamal, Hassan, Magubani, Keto and Badu are persuaded to join him for a game of football in a weatherbeaten alley, using dented metal buckets as goalposts. Just as they begin to relax and enjoy the game however, a group of bullies rides up on bikes. With a bit of inspired thinking, the boys hide their treasured new ball under a bucket, letting the bullies grab their old plastic beach ball instead. Javaherbin's lyrical use of language creates a very readable flow to the story.

Ford's full-spread oil illustrations emphasize the contrast between dusty brown streets and ramshackle buildings with the bright blue of the clear open sky. One of the most striking images is the scowl on the lead bully's face as he rides away the plastic ball. The luminous warmth in the boys skin tones is rendered beautifully, while their grimy and tattered clothing is a clue to the kind of poverty they live in. Their smiles and agile postures as they jump, kick and race about the street will be familar to any sports fan. Goal! is a thought-provoking story and is sure to be a welcome addition for teachers or librarians who want to increase their collections on bullying and social issues.


I received a free copy of this book from the publisher.