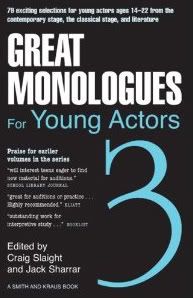 Great Monologues for Young Actors, Volume III
Smith and Kraus
2009

A fresh and challenging collection, ideal for classroom or practical use, this eclectic volume offers more than 50 speeches. A few of them contain language that ventures into mature territory, but most teens will find everything here very accessible. The brief but fantastic introduction includes intelligent advice on how to best make use of the material and to handle auditions professionally. A helpful appendix gives contact information for copyright permissions to those seeking to produce paid performances, but all of the speeches are royalty-free for auditions or study. With selections culled from playwrights such as Shakespeare and Shaw, Beth Henley and Christopher Durang, as well as from exceptional new talents, this is a volume that theater professionals and librarians will definitely want to have.


I received a free copy of this book from the publisher.
This review originally appeared in School Library Journal.