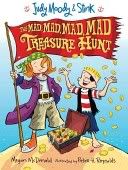 2009
It's a pirate-themed holiday for Judy and younger brother Stink as the Moody family makes their way to historic Ocracoke Island, home of legendary pirate Blackbeard. Stepping off the ferry, the siblings enthusiastically tackle a scavenger hunt organized by "Scurvy Sam," a.k.a. Cap'n Weevil. Solving each riddle leads to "pieces of eight" given by locals playing along with the contest.
As Judy and Stink race around the island, two other kids seem to be hot on their heels. With a bit of ingenuity and perseverance, the Moodys manage to outwit their competition. Their joy in victory is tempered by the realization that the other kids who have been trying hard have inadvertently led them to the answers on a number of their clues. They decide to include them on their prize trip -- a sail around the bay on a real pirate ship. With a mix of pirate slang, silly jokes, Morse code, and tantalizing puzzles, enlivened with full-color cartoons throughout, this book will make for a humorous summer read.


I received a free copy of this book from the publisher.