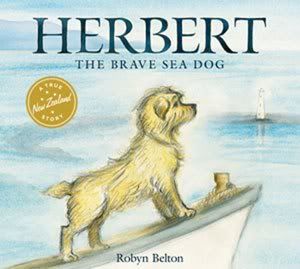 Herbert: The True Story of a Brave Sea Dog
2010

Based on a true story of an amazing lost-at-sea dog's survival, this New Zealand import is reminiscent of Robert McCloskey's classic stories. There's a timeless, old-fashioned feel to this book, with many full-spread watercolor pages.

Tim and his dog Herbert are heading to a cottage in Marlborough Sounds. Tim will go with his mother by road, and Herbert and Tim's father by boat. It's a beautiful day, with dolphins leaping in the bay. The weather turns quickly though, and as the waves climb, Herbert is washed overboard. There's no indication in the text, but the pictures show a dolphin, helpfully nudging Herbert to the surface. Although Tim's father is certain that Herbert could not have survived, he bows to Tim's wishes, and they sail out anyway. Tensions are high and Tim tells his dad, "This will be the worst or the best day of my life." Miraculously, Herbert is found, still paddling after thirty hours in the water.

The endpapers are lovely, the front endpapers are decorated with a hand-drawn map of Tasman Bay, showing the route that Herbert takes, along with a collage of found items and photos of Herbert and Tim, the back with newspaper clippings, letters, and photos.
I would recommend this heartwarming dog story for a

ges 4-8.



I received a free copy of this book from the publisher.