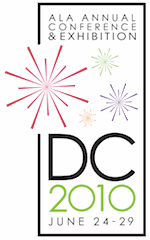 Tomorrow I'll be flying out to ALA in Washington, D.C. Ah, how I love ALA Annual. It's always a great opportunity to learn new things, get re-invigorated, connect with fellow librarians and friends around the country.
I'm sure I'll hit all the major events, like Nancy Pearl's talk, and Toni Morrison's opening speech. I'm going to the YA Coffee Klatch and will probably make it out to the Bookcart Drillteam. This year I splurged and bought tickets to the Newbery Caldecott Wilder banquet, so I'm looking forward to that! There is a dizzying number of panels I'd like to go to, and I know that I won't get to even a fraction of all of them. And of course, I'll be sure to see what for many people is the main attraction, the exhibits room, where intrepid and bold librarians may make off with oodles of swag; ARCs, bookbags, posters, bookmarks, pens, you name it.
I'm attempting to go with ONE piece of carry on luggage, (including my laptop) so I anticipate spending a good deal of today feverishly packing, and re-packing to make that work.
Hopefully, I'll have the chance to put in a blog entry or two while I'm there... but if not, expect a full wrap-up when I get home. Are you going to be at ALA 2010? I'll be checking my Twitter account frequently... @madiganreads. See you there!