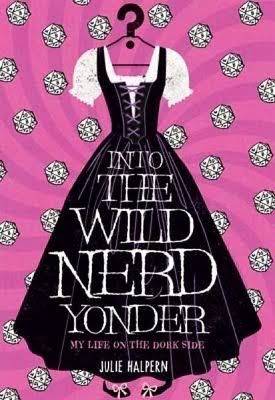 Into the Wild Nerd Yonder
by Julie Halpern
Feiwel & Friends
2009

I loved this book. Jessie Sloan is me. I am Jessie Sloan. Well, except for the fact that I embraced nerd-dom whole-heartedly, unlike Jessie who frets over what she thinks will be an inevitable fall from popularity once she begins associating with the D&D playing crowd.

Jessie is a sophmore in high school, and her brother Barrett, a senior. She's used to riding his coat-tails of popularity. He and some friends are in a punk rock band and her best friends, Bizza and Char are total hangers-on for the punk rock scene. Bizza and Char decide to give themselves punk rock makeovers for the next school year, while Jessie busies herself sewing a motley collection of cool, theme-fabric, A-line skirts.
When Bizza puts the moves on Jessie's longtime crush, Barrett's bandmate, Van, Jessie passive-aggressively accepts this at first. After Bizza cheaply hooks up with Van however, all bets are off, and their friendship is over. Jessie magnanimously agrees to accompany Bizza to the clinic when she contracts gonorrhea from her one-time liason, and after that they are through. In the meantime, Barrett decides to quit the band, and starts dating preppy (yet surprisingly feminist) prom queen Chloe Romano. Without a whole lot of other social options, mathlete Jessie befriends comfortable nerd Dottie from her study hall. Through Dottie she is introduced to a whole other circle, who quickly accept her as one of their own. Jessie is mortified at first to realize that she's crushing on Henry, a poorly-dressed, yet cute curly-headed member of the nerd herd with intense blue eyes.

There was so much in this book that I related to. The superiority of Dunkin' Donuts to Krispy Kremes. Her pros and cons lists. I liked all the meta-references to the audiobooks that Jessie listens to: Cell by Stephen King, Elsewhere by Gabrielle Zevin. I enjoyed the reference to Jessie's Frog and Toad skirt, featuring lots of buttons, natch. As a costumer, I totally understood the part of the book when Dottie begins hinting to Jessie that she might want to sew costumes for them for a weekend roleplay event. Too many times have I seen that glimmer in someone's eye, as they say, "You can sew? Can you look at this pattern? I'd totally pay you for the material!" and you can practically hear them thinking, "Ah, if only I could lock you in my closet and make you my sewing slave... then I'd be the best-dressed, most historically-accurate nerd in all the land!"

Interestingly, even as Jessie agonizes over her new group of friends, no one else seems to have any adverse reaction to her hanging out with the D&D'ers. Mostly, their reactions vary from, "D&D, huh? I tried it once, but it was pretty complicated," to Jessie's dad's enthusiastic reminiscing about some of his college-day campaigns.

The book culminates in a gigantic, weekend-long LARP session as Jessie and her new-found friends camp out and role-play. You get the feeling that she is going to make it through the rest of high school just fine.
I liked the cover of this book. The pink swirling background reminded me vaguely of the yellow swirling background on Audrey, Wait by Robin Benway. The corseted dress amidst a field of D20's seemed really perfect as well. Even though I am a big fan of cropped photo covers, I liked that this book used something different, as it really sets it apart.
I would put this book in the hands of teens who like realistic fiction such as the aforementioned Audrey, Wait, or the Gingerbread trilogy by Rachel Cohn.


I blogged this during the 48-Hour Reading Challenge.
I borrowed this book from my public library.