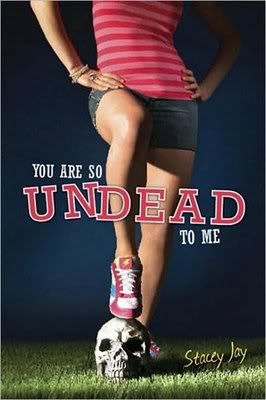 You Are So Undead to Me
by Stacey Jay
Razorbill
2009

Word on the street is that zombies are the new vampires. I dunno. I just don't know. Zombies don't have nearly half the sex-appeal that vampires do. The thing is, vampires dress great, sometimes are quite wealthy from their long-term (real long term!) investment schemes, and frequently have impeccable manners (when they're not overcome with bloodlust). Zombies, on the other hand, are kind of gross. They smell bad, they lurch and stumble and they like to eat brains. What's appealing about that?

Megan Berry is born into a Zombie Settler family, meaning she has been gifted/cursed with ability to put the undead to rest. Unlike the stereotype, these "Unsettled" don't eat brains, but are merely seeking out mediums with which to share their last wishes or mortal regrets. Once they've said their peace, they quickly make their way back to their graves. This doesn't make working with them any less unappealing, however, as they usually suffer from various states of decomposition. Megan borrows a page from Buffy's book as she desperately tries to keep the growing number of undead in her small Southern town under control; she wants nothing more than to be on the cheerleading squad, and enjoy homecoming dance. She hopes that by ignoring her gift, somehow, the gross and gory zombies will just leave her alone. Five years ago, she was party to an especially vicious zombie attack, and since then, her powers have waned considerably. She'd been hoping that she'd get to go back to being a completely ordinary girl, but a new rash of zombies have squelched her plans for a run-of-the-mill existence. An old childhood friend, and fellow Settler, Ethan, is around to give Megan catch-up lessons as she desperately tries to sort out who might be behind the increased numbers of Unsettled, including much more dangerous Reanimated Corpses. Megan struggles to keep a facade of normalcy with her best friend Jess and popular jock Josh (who she considers excellent boyfriend material) as she attempts to hold on to her popularity ranking at school. In the meantime, she has to cope with bitchy Monica, a fellow Settler, and her own growing crush on totally cute, now-that-he's-all-grown-up Ethan, now working for Settler Affairs. Interspersing disgusting battle scenes and smelly zombies with high school humor and flippant off the cuff remarks from Megan, You Are So Undead to Me definitely owes a debt to Buffy of Vampire Slayer fame.

There's quite a surprise ending to this book when the true villain is revealed, which I didn't see coming and really enjoyed. There's a sequel, Undead Much? released earlier this year. Anyone looking for a funnier, less moody take on zombies than Carrie Ryan's wonderful Forest of Hands and Teeth will want to take a look at this series.
I blogged this during the 48-Hour Reading Challenge.
I received a free copy of this book.