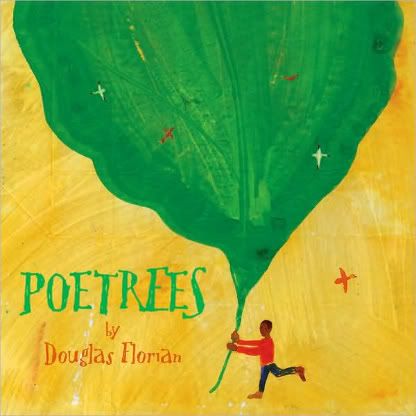 Poetrees
March 2010

This charming collection of 19 poems celebrates trees in all their variety. With a playful, kid-friendly sense of rhythm, respected poet Florian turns the book on its side, presenting the poems and illustrations vertically, to emphasize the height of each tree. Loose, easy watercolor and oil pastel paintings on brown bag and recycled papers lend a relaxed feel. Beginning with the concrete poem Seed, in the shape of the eternity symbol, ∞, implying the infinite possibility that each seed harbors, the book goes on to celebrate Giant Sequoias, Scribbly Gum, Banyan, Paper Birch trees and more. I loved the poem about the coconut palm which reads in part, "I'm nuts about the coconut./I'm cuckoo for the coco./ I'm crazed for this amazing nut./For coco I am loco." accompanied by a picture of a man with a coconut tree growing out of his head. Whimsical, short and full of puns, these poems will appeal to second through fifth graders with a sense of humor.

The book is appended with a "glossatree" presenting additional scientific facts about each of the trees mentioned in the book. Great for poetry units, or as an addition to a science curriculum, this is a book sure to please, don't miss it.


I borrowed this book from the library.