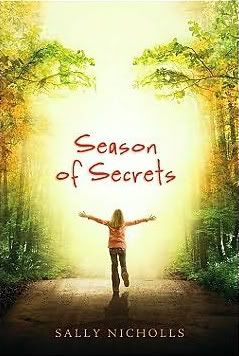 Season of Secrets
by Sally Nicholls
Arthur A. Levine Books
January 2011
Nicholls offers a serious, quiet book, one which might easily fit in with any number of realistic fiction novels about a young girl dealing with grief, and wraps a layer of mystery and fantasy into the pages.

Molly Brooke is attempting to put on a brave face after the sudden and unexpected death of her mother. Her grieving father has shunted her and younger sister Hannah off to stay with their grandparents. Molly is full of concerns about how she'll fit in at her new school, how long she'll be staying with her grandparents, whether she'll end up in an orphanage, and if her father will ever be able to pull himself together. Amidst all of this, she finds and hides a mysterious man in the woods, who is apparently being hunted. Her family assumes that her "imaginary friend" isn't real, and the reader is left to guess whether the "Green Man" in the story is simply a coping mechanism for Molly, or in fact, a helpless pagan God who relies on Molly's help to weather the winter. Hannah is appropriately bratty for a younger sister, the grandparents are loving, yet feeling quite put-upon, and Molly's dad is nearly catatonic with grief. When another child in the neighborhood corroborates Molly's story about a "homeless" man in the woods, her grandparent's belated panicky reaction amused me greatly.

With it's themes of loss, stressful family situations and hidden supernatural beings who may or may not be real, this story reminded me greatly of Skellig by David Almond. Anglophiles will be pleased to know that the book has remained largely unedited, full of British references to popular children's television programs such as Blue Peter and the like.
I borrowed this book from the library.