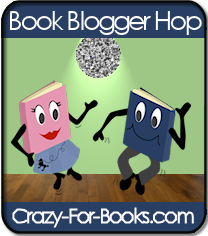 The
Book Blogger Hop
is a weekly meme hosted by Jennifer at
Crazy for Books
.
This week's question is more of a challenge:

Promote a book giveaway (not your own!)
This is easy, because I've never done a book giveaway. In fact, I rarely enter a book giveaway either. I usually give away ARCs as prizes at my library. Or, if it's a finished book, I might add it to the library collection. Once in a while I keep them... but I do try to keep things under control. I don't want to turn into one of those hoarders who ends up crushed under their own pile of books! But, I have to admit, I've been considering doing a book giveaway and meaning to check out a lot of other bloggers' giveaways so that I might figure out the best way to go about it. So, this week's Blog Hop is a great excuse to do that!
I'm going to recommend A Backwards Story's Giveaway of Lost Voices. I just read the book and loved it. My review is here. Bonnie at A Backwards Story has really gone all out though, with author interviews, guest posts, book trailers, and reviews of awesome mermaid books. Check her out!